i want this bear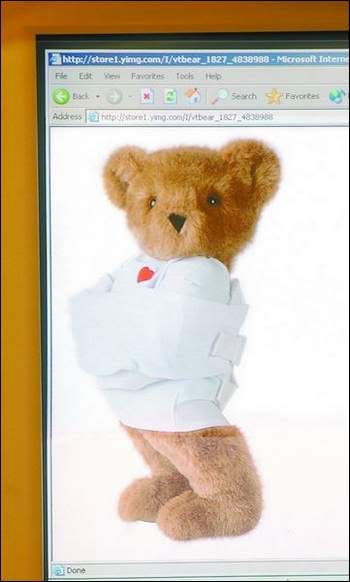 The 'Crazy for You Bear' comes with commitment papers and is meant to convey out-of-control love.
Valentine bear has some seeing red
'Crazy for you bear' angers mental health advocates
by The Associated Press
Updated: 10:45 a.m. ET Jan. 13, 2005
MONTPELIER, Vt. - A company that sells cuddly Teddy bears through the mail has angered mental health advocates with a special item for Valentine's Day.
The Vermont Teddy Bear Co. is featuring a 15-inch bear in a straitjacket. The $69.95 stuffed animal is called the 'Crazy for You Bear' and comes with its own commitment papers.
"This bear was created in the spirit of Valentine's Day and as with all of our bears it was designed to be a lighthearted depiction of the sentiment of love," the company said in a statement.
Mental health advocates believe the bear is "a tasteless use of marketing that stigmatizes persons with mental illness," said Jerry Goessel, executive director of the Vermont chapter of the National Alliance for the Mentally Ill.
The company said it would discontinue the bear, but not before Feb. 14. [
more
]