aha! dammit! i found it!
i have been looking for these words for the past three hours... and guess where i found them! from the blog, 'the rowster,' and the author is filipina! what the hell! ahahahaha - such a great find! anyways, i added her to my curious things.

the first time i heard the vagina monologues was as a student at loyola university chicago. it was very empowering! i didn't feel threatened at all. i was confused because i was supposed to be leading a catholic youth group at that time as well, but if the play's aim is to have every female find their own voice, then those two hours were revelatory.

last march 5 is the next time i was able to see the play. it was staged at the university of illinois at chicago for their v-week celebrations, and since it was UIC, its campus right at the heart of downtown chicago, you just knew to expect more. aside from an army chorus, they had two women do sign language. when they all stood up for the 'variations of moaning' part in the end, they thundered the stage, and THAT was a bit scary and threatening - i wondered about the men in the audience. ahaha! i heard several new monologues that night, and relived 'my vagina was my village.' one of the new monologues i heard that night is pasted below.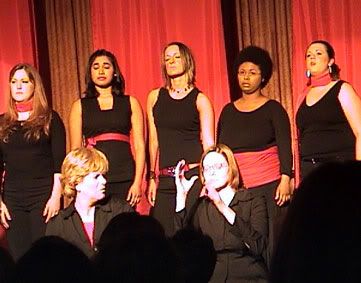 My Short Skirt
The Vagina Monologues
by Eve Ensler
My short skirt
is not an invitation
a provocation
an indication
that I want it
or give it
or that I hook.
My short skirt
is not begging for it
it does not want you
to rip it off me
or pull it down.
My short skirt
is not a legal reason
for raping me
although it has been before
it will not hold up
in the new court.
My short skirt, believe it or not
has nothing to do with you.
My short skirt
is about discovering
the power of my lower calves
about cool autumn air traveling
up my inner thighs
about allowing everything I see
or pass or feel to live inside.
My short skirt is not proof
that I am stupid
or undecided
or a malleable little girl.
My short skirt is my defiance
I will not let you make me afraid
My short skirt is not showing off
this is who I am
before you made me cover it
or tone it down.
Get used to it.
My short skirt is happiness
I can feel myself on the ground.
I am here. I am hot.
My short skirt is a liberation
flag in the women's army
I declare these streets, any streets
my vagina's country.
My short skirt
is turquoise water
with swimming colored fish
a summer festival
in the starry dark
a bird calling
a train arriving in a foreign town
my short skirt is a wild spin
a full breath
a tango dip
my short skirt is
initiation
appreciation
excitation.
But mainly my short skirt
and everything under it
is Mine.
Mine.
Mine.
extras from the vagina monologues
vday.org
the rowster