everybody was kung fu walking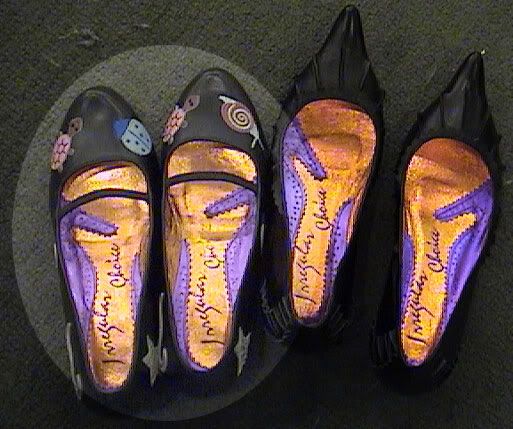 i really needed a new pair of work shoes. after an hour of roaming a downtown mall, i came across these by a chinese designer.
the ones on display get a lot of milage on them already even before being bought that the brand name on this one (the ones like kung fu shoes) got rubbed off. i ended up buying those, they're so cute. i like the other pair too, but i should only have one. hay. maybe next paycheck. i asked the clerk for a fresher pair, and purchased these kung fu lookalikes. it's nice to have some sort of reminder of your childhood shoes in a workplace that needs to be all serious all the time. :-)
although... yanno... remember that news about women
returning used victoria secret underwear
after a night out? legally, you could do that, especially if it's only been 24 hours.
so, looking back now, i was thinking: they're not undies. they're shoes. unlike undies, shoes tell all by the crease on their sides and the smudge on their printed labels. i coulda gotten a fat discount.
:wry:
i'm joking. i would never do that. books and DVDs are the only things i'll buy secondhand.