skirt frenzy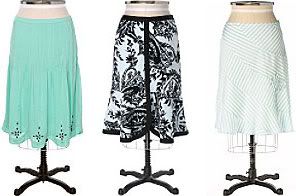 i tried on the mixed stripe skirt, liked it, but decided to pass. i have only one other such skirt, in that fabric, and it is enough.
i couldn't find the tuscan tulip skirt but i posted it here because it looks nice... ahahaha
. there was a similar dressy type skirt there, but in all black. it was layered, bunched up a bit and could have been the bottom part of some prom dress. i liked how both these skirts remind me of spanish-inspired prints and laces. hopefully next time.
the manzanita i was sooooooo lucky to have come across. i was like, finally, a skirt i won't be embarrased to wear at work!
anthropologie is my new favorite expensive store. yes, it is girly, possibly a little over the top girlie, a french cliche, a corruption of influences nonanglo-american, and i think the founder is female - who else can perfectly pitch and invite mostly women into the store - the men were checking out the books, ahaha - but my goal was to find clothes that can morph from work serious to casual day out.
one particular skirt that they don't have on their web site stayed with me saturday night till dreamtime. i couldn't get it out of my head when i woke up the next day, partly because the skirt was in a color i liked and mostly because it was on sale.
i gave in. sunday in the midst of errands i stopped by anthropologie and raided the sale section. i came away with the skirt that haunted me, the manzanita, and a couple others. i am so pleased and excited to wear those skirts not just to work but also to various events.
but don't be fooled - spending power isn't really all that.
last november my high school friends and i had a chance to go to las vegas for our 10th year anniversary. to get to a certain free show of neptune, the mythical greek god of water, we had to cross several halls of a casino's high-end underground malls. it was the first time i would actually see those high-end stores that i've only read about in american magazines growing up in quezon city. i thought those didn't exist! ahaha
"do any of these stores actually make money?" my friend ali asked, looking at a hideous dress that looked like torn rags barely stitched together. the prices would make you think they probably make the half month's rent of the place. and it is las vegas - you can just believe anything about everything in that city. people can loose their minds, souls, bodies, along with their finances, there.
yesterday las vegas didn't occur to me while i raided anthropologie's sale section, i only thought of the situations and places i would wear these skirts. so i grinned and turned and replaced two other skirts back onto their racks. sometimes it really is just nicer and much more fulfilling to just look.