art junkie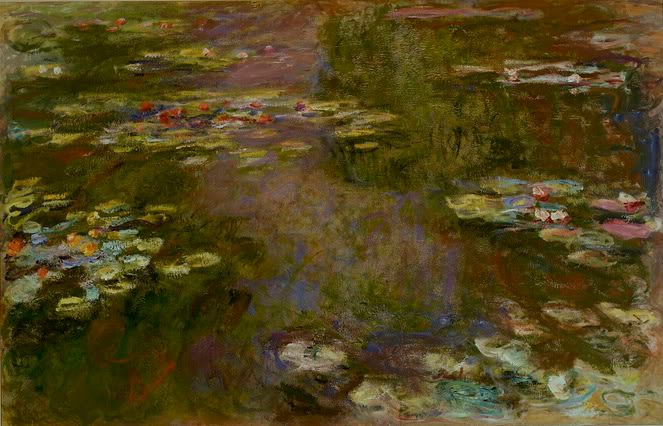 the art institute of chicago has suceeded in acquiring claude monet's "water lily pond," 1917-22. oh la la. impressionists don't bode well with my siblings, they said they painted horribly and were racist and bigots. ahahaha. i've forgotten most of my humanities classes to remember if that's true. anyone who's had a chance to take advantage of art museum free days (tuesdays in chicago) should, because everyone needs to be reminded of things beyond the daily grind.
while visiting las vegas last november, the hotel bellagio held an exhibit of monet artworks, and i got to see several of his works, including "
the japanese bridge
." i thought the painting stretched on indefinitely. the play of light, brushstroke and color intrigued me, and i wondered if such skill were possible with writing.
on a trip to the national gallery in washington d.c., i got to oogle at several versions of his "
rouen cathedrals
." i was happy i was able to take them all in at once - they were installed right next to each other in the same gallery. i imagined monet spending entire days just sitting in front of the cathedral, studying their changing throughout the day before taking up a pencil, or a brush, and start sketching.
i also got to see this painting, which held me in thrall for a long time. but i don't recall ever seeing the little boy, just the
woman with her parasol
. i'm not sure why the painting arrested me so, and i was sad that i didn't get a chance to sit and wonder without also remembering i was pressed for time.
but i remember the light in this painting seized centerstage. the light is the main attraction here, and she and her parasol were mere instruments, much like monet's brush and the canvas. i tried looking at the woman herself, and guessed that monet appreciated her beauty, the way her dress picked up in the wind. but the way it changed and folded in the wind was what captured monet the most.