chicago iraqi americans cast their vote
haven't got much going on right now outside of work. will post some movie reviews soon. well, here's a freaky work memory - the day after i started, aug. 29, nationwide wire satellite service shut down. so we had to send copy to our members by email or fax. yes, it was a nightmare. i don't know how i rode it. but i must have done something coz i'm still around, ahaha.

here's a piece that i turned in to one of my other magazines, but they turned it down because of time constraints. i wanted to see for myself the encouraged iraqis who hoped for better for their homeland, so i visited a polling place in suburban rosemont.


March, 2005
Chicago Iraqi Americans cast their vote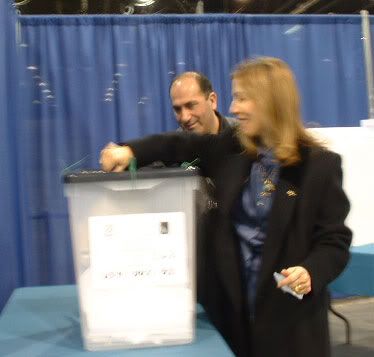 Busha Elsaffar casts her vote.
Members of the International Organization for Migration and the Iraq Out of Country Voting Program clapped, surprising voters casting their ballots into a large covered plastic bin at one end of the polling place.
Their simple congratulations remind everyone that they've all just participated in history in the making. Americans of Iraqi background are voting to form the 275-seat Transitional National Assembly, responsible for drafting a new Constutition and for choosing nine candidates for president.
The event is in accordance with an order by the Coalition Provisional Authority, an organization established by international Coalition members, headed by the U.S.
Benjamin Yousif is employed by the IOM, and has served in similar election events. He was born in Iraq, but first lived in Jordan, Turkey and Greece before settling, along with his entire family, to the U.S. when he was 16. "I'm pretty thankful we didn't leave anyone behind. It's pretty amazing, working with the citizens of other countries to get their ballots in, and then finally being able to do it for my own country," he said.
"We were actually expecting more people to register and vote - we only have a little over a thousand registered out of 50 to 100,000 living in Chicago. I'm not sure why they didn't want to come, some say it's fear, others probably just can't get out of work or come here to vote. But those that could, the way they came in, driving an hour, several hours, from Texas, Nebraska, South Dakota, or even flying, just to register and then to vote - it's amazing," Yousif said.
Others consider it a badge of honor. Khoshaba Kamber is an Assyrian Christian who came with his wife and daughter to visit his son in Chicago in 1978. After seeing how life in the U.S. was for his son, he decided to stay. Kamber would visit many more cities before finally settling in the U.S.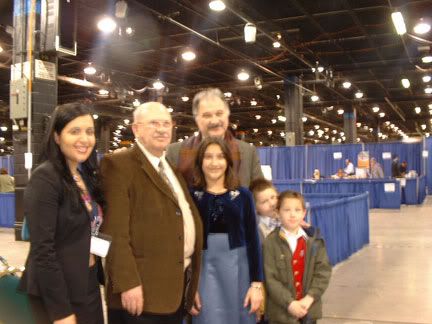 Three generations at the Rosemont polling place: International Organization for Migration spokesperson Atorina Zomaya with Khoshaba Kamber, his son Joe, who moved with him and his wife to Iraq on Columbus Day, 1978, and Joe's daughter and two sons.
"He was born in Iraq and was six years old when his family first fled to Syria in 1993 to escape the Simele Genocide," Iraq OCV spokeswoman Atorina Zomaya translated, citing the 1933 killing and expulsion of Assyrians from the village of Simele, in northern Iraq. Iraq's statehood was established in 1920.
"He fled religious persecution with his father, brother and cousin. He says more than half of his village was killed. They went to Syria, which was a colony of France at that time." Zomaya translated.
Kamber said even though his job was stable - he worked for 32 years as a government chaffuer - they remained uncomfortable because of ethnic persecution. In 1980, he was able to return in Syria and Iraq to visit family, but chose to live in the U.S.
"It's an honor to have democracy, in the sense that we're able to cast our vote here for our people, but also so we can have the freedom and democracy that we have with us in the U.S. for our people in Iraq. So we can work in our own land," Zomaya said, translating for Kamber.
Bushra Elsaffar trained as a geologist in Iraq, but switched careers when she married and moved to the U.S. with her Iraqi-American husband. Her entire family is still in Monsur, Iraq. Her sister said that their workplaces had given them Thursday until Monday off so they can vote in the elections. "She said they were scared, there was a lot of bombings, but they persisted and voted," Elsaffar said.
There are two election locations in Chicago - suburban Rosemont, set up to serve out-of-state voters, and suburban Skokie, for Chicago and local residents. Three hours after polls closed at 5 p.m. Jan. 30, Zomaya said that there was 99 percent turn out at both sites.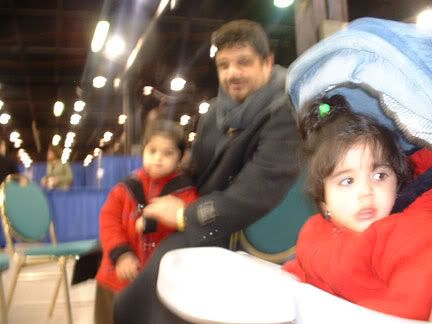 Hadi Al-Hisnawi with his two daughters.
For Hadi Al-Hisnawi, who lives with his wife and two daughters in Chicago's north side, this is the first time he's ever voted for anything for his country. "This is why we came here to this country. This is the point of freedom," he said.
His wife, Hanaia Tlab, said she's been waiting for this day for a long time. "It's everyone's independence," she said, recalling her own family in Iraq.