kababs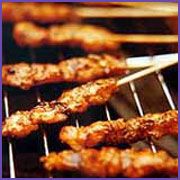 tomorrow is my sister's bday. we've taken to just sitting inside the house these past few days, although the weather outside's become bearable. i hope we get to see a couple movies, but all she wants to do is eat at
noon-o-kabab
and go shopping for some pesto sauce ingredients. yum!
:pleased:
but what's sweeter will be seeing our mother's face when we sit down to eat. i imagine a scenario: "what's this place?" she's going to ask.
"noon-o-kabab," we'll say.
"oh." and because she also cooks elaborate filipino dishes, she prods. "what do they cook here?"
"beef, mostly meat, but also rice," i say, because she's familiar with that.
"oh." and she will look around, because the decor of elaborate tiles and mosaics looks familiar. "what kind of food is this?"
because good food takes a while to make, we'll have to stall for time. but because sometimes i shake tact when faced with good food, i will blurt, "persian. like in turkey, when you went on the cruise."
"persian?"
"yes, in the region where saddam hussein lives."
ahahahahahaha... this is why sometimes my siblings dislike bringing my mom and i out. i will totally go for the yummy food -
looove
them deep meaty flavors and dill rice - but you can almost hear the world wars going on in our mom's thought processes. heeheeeee -