not one to miss a party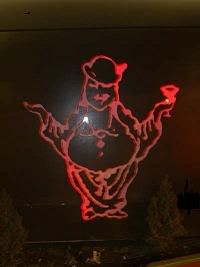 second to the last event sunday early morning: funky buddha lounge near downtown. parking was horrible, but somehow we found a space. can't remember where. can't tell you to save my life. but i do remember it was well-lit and near the highway. ahahaha.
finally, FINALLY found out what the huge mural of a laughing - laughing, not smiling - buddha was with the stupid cocktail drink in his hand was for. the juice in the drinks are organic. the chocotini was fabulous. i stopped after that. i really did. ahahahaha. i laugh because we had soooooooo much fun. we all decided it to be a weekly thing. it has to. else, i'll trot over to the place by myself. ahahahahaha.
ok no one will believe me coz i swiped that pix off some web site coz i didn't get a chance to edit and upload my real pix yet -
---
unahan ko na kayong lahat:
happy birthday to everyone born the month... the month... this month... i mean, the month following july and preceding september!!!
;-)