the constant gardener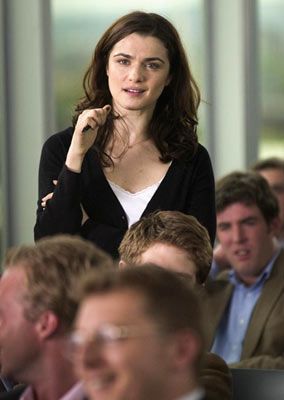 if we want to tell a story of complicated conspiracies, we'll use the world's poorest, least understood, but most populated societies: some are in africa. we'll shoot it so that even the camera angles focus on the beautiful countryside, but not the story itself. we'll shoot in the general direction of the event, and show that even with uncentered, shaky images, we can tell a story, and tell it well.
we'd want to isolate an impassioned student from a prestigious british university, a shy but proper and astute botanist made diplomatic representative, and make them fall in love. further, we'll turn the young, seemingly blindly impassioned student into as sharp an enemy as believably possible, the kind the moneyed and powerful can hire assassins for and execute at a moment's notice. we'll make her pregnant but her baby died at a public kenyan hospital, so she has an alibi to bury herself in work. we'll give her a sharp and loyal sidekick and make it clear she's the life of every party and the world of her husband.
but we won't leave her reason for coming to africa in the first place, in fact, we'll make her diplomat the better half the innocent and her the actual threat. we'll not tell too much about her, because we want to show that more than that the world is run by men, or that only the quirkiest remarkable women get their stories told, but because we want to focus that she was driven so by only the purest passion and care for kenya.
but we'll execute her after she forms a couple global women's organizations, and we'll make it seem as if she's occupied herself with philanthropy as hobby. everyone will forget that the embarrassing, very pregnant and comical wife is actually waging war and protest by mentioning, as conversation to diplomats, sweetly and nonchalantly like a proper diplomat's wife, how so-called drug aid to the kenyan countryside is ineffective, expired, come too late, or worst of all, not at all.
we'll start the story with the same exact clip of her leaving with her friend for the town of loki to deliver a report. or thereabouts. we'll just make it clear that she's left her husband for a while for business carrying with her documents that could dismantle millions of dollars of revenue for kenyan officials and worldwide drug companies. we'll toss in a few british patriotism. and a report completed, disappeared, and recovered at a remote sudanese village.
after justin recovers tessa's missing 16 pages, he'll send it to rome where it will implicate the proper diplomats and inspire her cousin to read a letter the diplomat sent a kenyan official saying to finish her off at justin's eulogy. the letter will expose who killed who. we'll end by making it clear that justin's completed tessa's last purpose. her cousin calls out for justice.
in the end, it was all about greed, how maybe there really isn't a stronger strain of TB coming to invade the world. how pharmaceutical companies want to be prepared to be the monopoly on the special vaccine to prevent this new TB. to become monopoly, they must work with the british government who controls most of kenya today.
we'll paint kenya and the whole of africa as a world clinic: the pretense of government taking care of their citizens' health by issuing health cards that state which kinds of medicines you are eligible for. the drug companies need to test vast quantities of this new vaccine to a TB that may or may not exist. and in the meantime, we'll make the companies rich, and the africans, rich in culture, for they can still dance, sing and pray.