exhibit A
i'm blogging this on wednesday, sept. 21. nothing really happened yesterday, ahaha. tuesdays are my busiest at work, and i just try to pay attention to my heavy routines, on top of whatever else my editors ask. so anyways.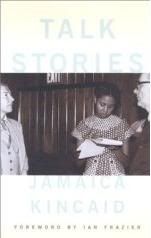 i just read three great internet articles about one of my favorite writers,
jamaica kincaid
. i've only read "a small place," but i have "lucy" and "talk stories."
what i liked best about "a small place" is her vivid imagery - i saw the library she stole books from. i saw its groaning floorboards and its sideways lean. i saw its second floor left side sink a little much left while the right seemed fine. i saw a tree waiting beside the building. i saw the other islands that comprise antigua - a barren piece of rock and how treacherous for tourist surfers should the waves take them there. i saw the blue ocean sink into pipes that lead to high-end hotels that open into the faucets of every guestroom, occupied by tourists from the u.s., england, australia.
the photo in the cover of "talk stories" showed me a writer. my airhead brain went, "oh." the former staffer for
the new yorker
left because
she didn't like management
. but before complaining, she
put in her work
. that's just how you complete pieces. if you want to write, you seize your inhibitions and hunker down and just do it.