cold as grave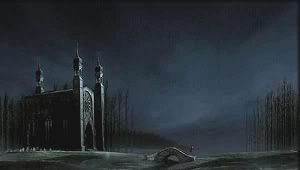 saw
the corpse bride
last weekend. for some odd reason, i keep on spelling BRIDE as BRIDGE. ha! i dunno why.
the movie, as expected only of a burton-elfman-depp mix, is clever, entertaining, and respectful. i have one complaint, though, and everytime i remember it, i laugh:
the british accent.
yes. why is it that everything elegant, modern, serious, magical, uppity and
european
has to be said in a british accent? i'll bet $10 that the legend of the corpse bride is actually german, just like many of the original fairy tales. the german accent is just as exotic and
european
as the french or russian accent.
i suppose it has something to do with that the audience will most likely be
american.
;-)