poetry break
the
poetry center of chicago
will release a new verse in a billboard over the busy river north gallery district on dec. 19.
mark strand over chicago and wells, 2003-04
You there,
Come with me into the world of light and be whole
For the love you thought had been dead a thousand years
Is back in town and asking for you.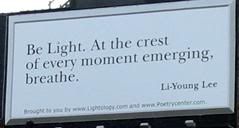 li-young lee over chicago and wells, 2004-05
the next verses to grace the intersection of chicago and wells while we rush about trying to complete christmas shopping will be by pulitzer prize winner and chicagoan lisel mueller.
Each day, another minute of light.
They mount up, these tiny presents,
as we slowly unbundle ourselves
and offer our faces to the sun.
we can complain that enterprising
light
ology found a way to help both the poetry center and themselves.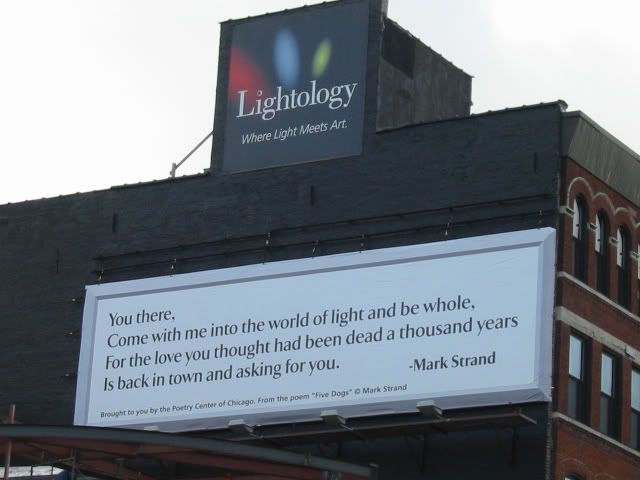 but when you are out there in chicago's busiest shopping district, with the bells and the parades and the street musicians; the window displays and the screaming, happy children loosed from their parents, running to chase the latest toy display that's caught their eye; when you're in the shadow of historic water tower, loyola university, the john hancock center, the american girl place, the hershey's store, the park hyatt hotel, the scarves and coats at banana republic and the nagging pills and band aids at walgreens; lookingglass theatre and glittering water tower place mall, bistro 180 and sweet ghirardelli; with screeching police whistles, late public transportation, and an occasional fire truck, sirens blaring; couples oblivious to everything else and tourists too excited to notice anything but their cameras, you will want some sort of perspective to the madness around you. you'll mutter mueller's billboard isn't close enough to michigan avenue.
and then you'll complain you wish mueller were clearer. hehehe.