this idea of faith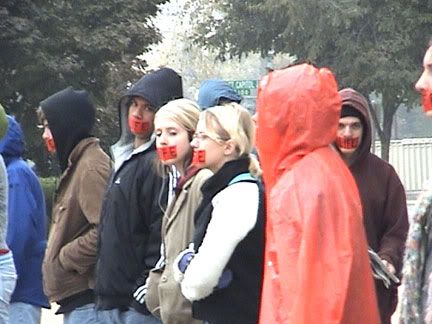 ABC had just finished a segment on college kids loudly calling on the name of the lord to reverse the roe v. wade rule. in the end, i loooove how the reporter ends with, "at the end of the pastor's comment, bells began to ring." and bells do begin to ring, somewhere in the big city that is washington DC. it's just the perfect clincher to what the pastor's saying, that the college kids are indeed changing the world.
what's more's that in the middle of the broadcast, the reporter points to an aerial map of washington DC. he says the building that the students use, paying $7,000 in monthly rent for a small office space on the second floor, is built at an angle that points to the supreme court building.
the reporter is trying to communicate all these strange coincidences. or are they coincidences?
it reeks mockery to me. the reporter is trying to say that these college students aren't acting in a progressive mode, they're acting medievally, the way, in the dark ages, people believed that cholera was transmitted through the air and that mechanical clocks are made by the devil.
this is the dark side of journalism, complex stories made easy to tell. it's easier to tell the story of faith as akin to witchcraft in the 1500s. it's a lot more festive to the eyes to show college students dancing and screaming into the microphone their prayers that often have nothing to do with roe v. wade. it's a lot more exotic to show them sticking a red LIFE tape across their mouths and praying in front of the justice chambers.
but it's like a snake eating its tail in that there's no other way to tell this story - the reporter did ask the college kids questions and their responses really are as exotic and strange as you'd expect them to be. it draws you in and makes you sit there and watch their broadcast until the end.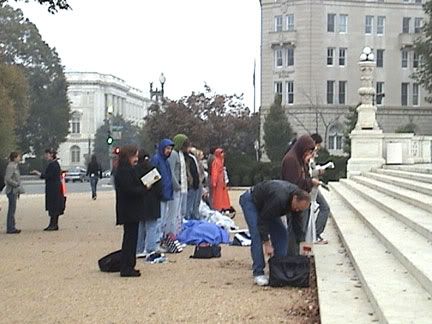 have you been to washington DC and seen these protestors?
they really are strange and eerie. on the way to the national galleries, i happened on the supreme court building and saw about 20 students lined up in the sidewalk far from the entrance of the chambers. it's because of them i refused to enter the supreme court building. they stood there, heads bent. quietly. praying. mouths taped in red.
it's like a train wreck - you can't help but watch. some of them were awake and talking to people - one of them actually entertained this other person who was
for
roe v. wade, and she was the one nodding and giving the other person license to rant. it looked like the supporter was the crazy person, and the pro-life person, with her calm nodding, the normal one.
in true ulanmaya fashion i asked for a red tape and asked what was going on. i stepped back and took a photo. and then i walked away.
it's very encouraging to see young people already adamant about their faith. they stand together because there's more than one of them. but with the way they closed their eyes and prayed, i knew that even if there were just one of them, they would kneel - or sit - or stand - in front of the supreme court building and just pray. it's pretty interesting.
just like most things you can't see, if you look for it, you just might find it. but i totally believe that there is a god and he does listen, and so much like us, he chooses his response, if he responds at all. there are some people in my circle of friends who lean anti-abortion because they are catholic, and it's part of being catholic. and being catholic is their identity. there are others who are sympathetic to the woman faced with this unexpected decision.
i tend to believe that women who do get unexpectedly pregnant really won't get rid of their babies. it's just that the noise about this issue has gotten so ridiculous, so carnival-like. but unlike many issues where the real is being drowned out, the real is actually highlighted: does life begin at conception? unless you're a woman, shouldn't you just shut up about abortion? are you just joining because you're catholic? do you really believe you'd have killed someone by abortion? is it abstinence or birth control? does having a baby at 15, with your family and the boy's family supportive, really all that bad? is this issue ever even an issue at all? :-)