leyte
leyte is known as the birthplace of the philippines' most notorious female icon, imelda marcos. it is recently the site of the latest landslide - one town is wiped from the map, and a mountain's side has been flattered. more than 1,000 people are still missing. the landslide happened friday night.
the side of the mountain that gave had been logged illegally for several years. leyte was once known for its thick, impenetrable rainforests. in order for the peasants to earn a living, they worked for companies that needed lumber. the rainforests are all but gone now. prime riceland, the valleys and flat land further inland, have gone to rich landowners and corporations.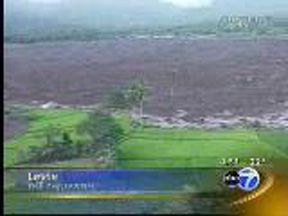 crews have no choice but to dig by hand. the new mudplain is too soft to bring in heavy equipment such as buldozers and construction shovels.
relief centers, scientists and officials have set up temporary shop near the site.
i'm unhappy. all i can do is blog and pray. it reminded me why residents chose to stay at their small towns of guinsaugon, liloan, san francisco, maasin, agusan and surigao - the land is beautiful at the foot of the mountain and the coasts.
please attend and donate at the vigils and gatherings, if you could.