Spaces and the things they occupy
Reading "The First Hay(na)ku Anthology"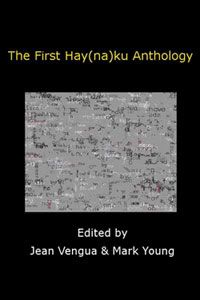 Sometimes when there's so much going on in one's mind, there is a tendency to be brief and curt but well-meaning in one's speech.
You
and I
should get together.
Maybe
we will
fall in love.
(Tom Beckett, "Dear Reader,")
Being succinct takes courage.
where did the rest of this review go? ack!!!

it's scheduled to appear in the inaugural issue of Galatea Resurrects (A Poetry Journal). the online journal is scheduled to go live the week of march 14. for details, visit in galatea's purse.

so... the review is still there. it just had to go in hiding for a while. hehehe. thanks for reading!