happy easter!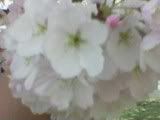 francis p.'s cherry blossoms
woohoo! happy easter, everyone! i couldn't think of anything to text out, so i used sarah's great quote. thanks to everyone who sent greetings! :-)
(on black saturday)
Let dis season of LENT remind us al that dis life we hav & d material posesions we hold r just bein LENT 2 us. We r al pasin by. We r not imigrants hir. We are all pilgrims n d road. We bring nothing wen we die but we can leave bhind d luv we have shared, d hope we have given & d goodness we have done. God bless us. :)
(easter sunday)
Happy Easter!!! Take care and God bless!
Happy easter!
Let our wounded, muted voices sing again: Christ is risen! Life is very good! Happy Easter!
Happy Easter! May the Risen Lord pour out His Grace & Blessings upon U & Ur loved ones!
and my most favorite:
In d palm of hs hand god has written ur name, 4 u r loved not 4 what u are 2 others but 4 who u are 2 hm.Hve a meaningful easter. god bless!